CODEX® Antibody Custom Panel Design
Akoya's CODEX system provides an unprecedented level of flexibility for creating panels of comprised Akoya-validated antibodies or clones labeled with CODEX Barcodes using Akoya's custom conjugation.
CODEX Antibodies are provided individually and can be mixed and matched to design panels for the simultaneous analysis of up to 50 biomarkers. Akoya has validated and inventoried biomarkers for analysis of human FFPE samples and fresh frozen tissues for both human and mouse.
Akoya is validating antibodies for the below species and tissue formats. Contact Akoya for the latest target lists.
CODEX Antibodies for Human FFPE tissues
CODEX Antibodies for Human Fresh Frozen Tissues
CODEX

Antibodies for Mouse Fresh Frozen Tissues
Custom Antibody Conjugation with CODEX® Barcodes
Akoya supplies many pre-validated antibodies targeting common immunology and oncology markers including cell surface and intracellular proteins.
In order to enable a wide range of research areas and tissue-specific biomarkers, Akoya has developed the CODEX Conjugation Kit and individual CODEX Barcodes to robustly prepare clones from third-party antibody suppliers.
Akoya has tested and classified a wide range of clones to guide researchers for compatibility with the CODEX Assay. Additionally, researchers from the COD
EX Community have submitted targets demonstrated to be compatible with the CODEX Assay.
CODEX® Antibodies and Supplemental Categories
The below table describes the various categories for CODEX Antibodies. Akoya provides fully validated CODEX Antibodies and a list of Supplemental antibodies that have undergone varying levels of testing.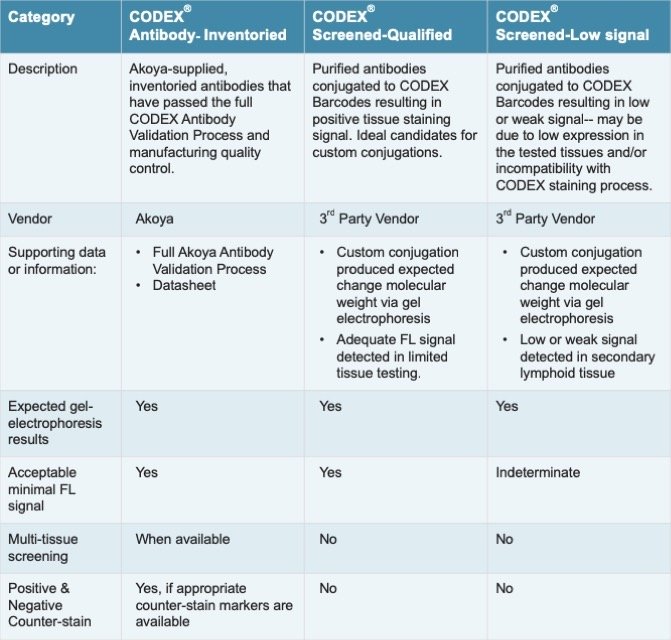 **Antibody format, clone screening methods, and qualification metrics are detailed in the CODEX Conjugation User Guide.