Home
About AIR
A New CCR Initiative for Researchers
Artificial Intelligence (AI) is becoming important for cancer research but is difficult to access for most labs. The CCR has created a new AI Resource (AI) to benefit researchers in the CCR.
AIR Introduction Event
To collaborate with the AIR:
Please click the button below and fill out the form. Once collaboration form is completed click "Submit".
Contact Information
Artificial Intelligence Resource (AIR)
Center for Cancer Research
National Cancer Institute
5413 W. Cedar Lane, Suite 102-C
Bethesda, MD 20814
240-585-3000
Projects
Projects
Multiresolution Application of Artificial Intelligence in Digital Pathology for Prediction of Positive Lymph Nodes From Primary Tumors in Bladder Cancer.

Objective: to develop an artificial intelligence (AI)-based model for identifying patients with lymph node (LN) metastasis based on digital evaluation of primary tumors. Link to publication: PMID 32330067
Detection of prostate cancer in multiparametric MRI using random forest with instance weighting.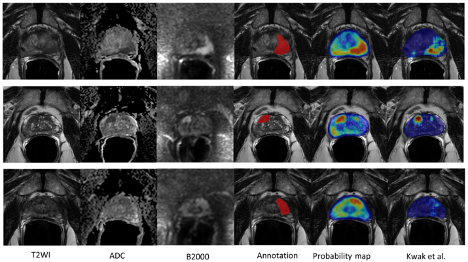 Objective: prostate computer-aided diagnosis (CAD) based on random forest to detect prostate cancer using a combination of spatial, intensity, and texture features extracted from three sequences, T2W, ADC, and B2000 images. Link to publication: PMID: 28630883
Key Staff & Steering Committee
Key Staff
Stephanie A. Harmon, Ph.D.

Staff Scientist

Stephanie A. Harmon, PhD received her BS in Physics from Illinois Institute of Technology in 2011 and a PhD in Medical Physics from the University of Wisconsin in 2016. In 2017 she joined Leidos Biomedical Research as a postdoctoral scientist within Dr. Baris Turkbey's group in Molecular Imaging Program (MIP) at the National Cancer Institute before transitioning to a Staff Scientist position in 2020. Her research background and interests are in computational characterization of cancer and cancer-related outcomes through combination of multi-scale data incorporating information from medical and pathologic imaging. Link to Dr. Harmon's PubMed bibliography can be found here.

BG 10 RM B3B85
240-858-3067
240-781-9043
stephanie.harmon@nih.gov

G. Thomas Brown, M.D., Ph.D.

Staff Clinician

G. Thomas Brown, MD, PhD received his PhD in Cell Biology and MD from Case Western Reserve University in 2013 received training in Anatomic Pathology in the NCI Laboratory of Pathology. He completed a Clinical Informatics Research Fellowship at the National Library of Medicine. He joined the Leidos Biomedical ABCS/IVG as a bioinformatics analyst in 2019 before transitioning to Assistant Research Physician with NCI in 2020. His areas of interest involve computer vision and deep-learning algorithm development to assist physicians with diagnosing and treating cancers with greater accuracy and efficacy. List of publications:

BG 10 Room B3B85
301-846-1847
301-263-4048
<br gtom.brown@nih.gov

Nathan Lay, Ph.D.

Staff Scientist 

Dr. Lay received his PhD in Computational Science from Florida State University in 2013 where he developed a novel machine learning aggregation framework based on ideas from prediction markets. He spent three years in industry research where he developed methods for segmentation and landmark localization in medical image analysis problems. As a result of his work in the industry, he is a co-inventor of several patents. After three years of industry research, he joined the Imaging Biomarkers and Computer-Aided Diagnosis Laboratory at the National Institutes of Health as a Staff Scientist where he developed novel prostate cancer detection methods. Through close collaboration with the Molecular Imaging Program, his prostate cancer detection systems have been honed and studied in three international reader studies. His research interests are in the fields of machine learning and computer vision.

BG 10 RM B3B69
240-858-7063
301-768-5257
nathan.lay@nih.gov

Steering Committee

Director

Associate Research Physician

National Cancer Institute, National Institutes of Health 

Steering Committee Members

Director, Molecular Imaging Program

National Cancer Institute, National Institutes of Health

National Library of Medicine, National Institutes of Health

Center for Research in Computer Vision, University of Central Florida

National Cancer Institute, National Institutes of Health

National Cancer Institute, National Institutes of Health
Protocols and Resources
Available Positions
No positions available at this time.  
Publications & Events